The Trapper



Name

The Trapper

Class Name

The Control Class

Average Health

Low

Speed

Moderate to Fast

Sex

Male

Combat Style

Weak Ranged Combat, Weak Melee

Pros

• Can trap dinosaurs
Rapidly inflicts minor damage

Cons

• Low health
• Very weak attack

Weapons

• Duel Pistols (Ranged Combat)
• Hunting Knife (Melee)

Equipment/Projectiles

• Netgun
• Net
• Bullet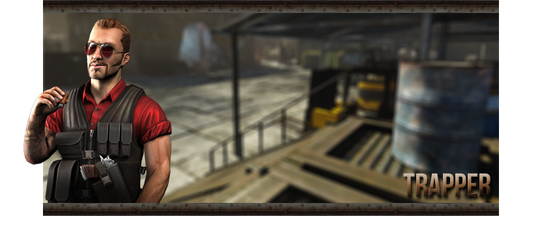 A control specialist; the Trapper doesn't like dinosaurs on the prowl, so that's why he stops them dead in their tracks.
Tactical Summary
The Trapper is all about staying cool under pressure and controlling the situation, and for the latter he definitely came prepared. The dinosaurs may have sharp teeth and claws, but without their mobility they are nothing; and that's where the Trapper and his Netgun come into play. A well aimed net can stop most dinosaurs in their tracks, and shortly after they can be dead in their tracks. When dealing damage is preferred, the Trapper can whip out his stylish pistols.
One shot from the Trapper's Netgun can turn a fast, agile Raptor to a helpless, netted Raptor; but a meddling Dilophosaurus can weaken the nets with its venom and free a trapped dinosaur. A T-Rex is too big to be stopped by a net, but a well placed one can still have its advantages.
Weapons and Utility Equipment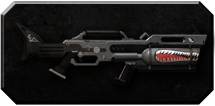 NETGUN
This specialized weapon carries a limited number of tightly bundled nets which expand upon being fired and can wrap around the target. The net can hold most dinosaurs in place for a certain amount of time, allowing the humans the opportunity to kill or escape.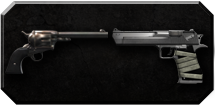 DUEL PISTOLS
These two pistols, stylishly customized to the Trapper's tastes, are used simultaneously to deliver a rapid amount of minor damage.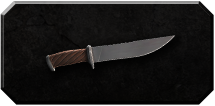 HUNTING KNIFE
Secondary Fire (Sniper Rifle)
Blade won't be the Trapper's first choice for going up against a dinosaur, but it does serve a special purpose. While a dinosaur is trapped in a net, it is vulnerable to a one-hit knife kill.
Related Pages