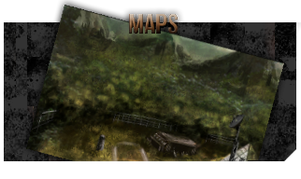 The following is a list of confirmed maps for Primal Carnage. Lukewarm Media has confirmed at least a total of 5 maps before release.
The list is currently awaiting announcement.
A base surrounded by a wall which is broken on several parts. Sunny weather. The Base is surrounded by a Coniferous Forest
-Airbase
The Airbase is a Night Map Full of Overgrowth, it's very dark and always raining. Dinos are known to fight with more stealth on this map.
-Docks:
Morning Map with some Vegetation and tons of shipping crates. If someone falls off the map, they will land in the ocean, causing instant death.
-The Falls:
Another night map consisting of a well lit dome where most of the action takes place. Inside the dome are a few large rocks and quite a bit of foliage. Outside the dome is mostly long grass and some crates. The river may pull humans and smaller dinosaurs towards the ocean, causing them to die.
-Forest Chasm:
Without accessible structures, this map is mostly wilderness, with a few gates at the edges. The Massive Canyon in the center has a raging river at its bottom, causing instant death for anything that falls in.
-Downpour: Forest map