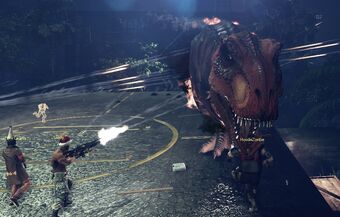 Airbase is the largest map in Primal Carnage, and it is also one of the darkest, set during nighttime in the midst of a pounding rain storm.
The map itself is broken up with helipads, destroyed airplanes, a large aircraft hangar, and much more. You'll have to constantly be on edge, as this map makes it very easy for dinosaurs to sneak up on you.

Airbase returned for Primal Carnage: Extinction, slightly brighter due to the moon peeking through the clouds, but still featuring plenty of darker areas to get lost in.
Strategy
One of the locations that humans will tend to graviate towards is the helipad. It is well lit and a few feet above the thick brush, giving humans a slight advantage against dinosaurs. Even this advantage can be toppled by a T.Rex or a pack of Novaraptors, however. It is very hard to survive long solo on this map, and your best protection definitely is in a group. 
Dinos are known to fight with more stealth on this map due to the amount of foliage for cover and darker places for them to stalk from.
Development
Airbase was one of the first maps shown before Primal Carnage released, its reveal doubling as the unveiling of the Carnotaurus class.